Nature and Culture:
The exuberant Colombia
Colombia is a country characterized by its natural and cultural richness. This abundance has thrived continuously, resulting in unique natural scenarios for the planet. Our strategic geo-localization has allowed the sun to be the main reason for such exuberance. The tropic then, becomes, certainly, in the most desired location for any person that want to have an overwhelming experience. Caribbean Sea, Pacific Ocean, an intricated ramification of the Andean great range (east, central and west range), a unique range worldwide: The exceptional Santa Marta Sierra Nevada, that goes from the sea to the tropical glaciers, deserts, Páramos (only founded in 4 places on earth), amazon jungles, tepuyes mountains and a lot more landscapes that are just the beginning of what Colombia means! 
"Gods Garden" as the professor Richard Evans Schultes named, almost the most prestigious ethnobotanic of the XX century. Ancient cultures that assure that on this territory the earth was born, Sacred spiritual leaders that become the great Jaguar, Mamos at the Santa Marta Sierra Nevada considered the big brothers that maintain the balance of the planet, this and much more is Colombia!
Dancing and singing, meals and traditions, towns crowded of histories, myths and stories. This is Colombia!
What are you waiting for coming?
Colombian regions and maps
Colombia has 5 regions: 
Andean Region: Characterized by the mountains that start from the south until the east at Santander. Here, the best Colombian coffee is harvested, in the known Coffee Triangle. Some cites are: Pereira, Armenia, Manizales, Bogotá, Ibague, Tunja, Medellín, Pasto among others.
Pacific Region: Characterized by its exuberant pacific jungles and the cheerful people. This area has the rainiest and bio-diverse locations of the planet. Some cities are: Cali, Quibdó, Nuquí, Capurganá.
Caribbean region: This region has incredible warm and soft beaches and an important part of our history. Some cities are: Cartagena, Santa Marta, Barranquilla, Sincelejo, Mompox.
Amazon region: One of the most bio-diverse regions of the planet, you can find there several ancient indigenous cultures and amazing fauna and flora. Some cities are: Leticia, Mocoa, Florencia, San Jose del Guaviare, Puerto Asis, among others. 
Orinoquía Region: This region has a great variety of special fauna and flora specialized in the east flat lands, the place to find the big rivers that flow down from the Andes and go to the Amazonas jungle. Some cities are Yopal, Casanare, Villavicencio.
Bio-diversity in numbers
Graphics for informative proposes, retrieved from:
 http://www.humboldt.org.co/es/boletines-y-comunicados/item/1087-biodiversidad-colombiana-numero-tener-en-cuenta#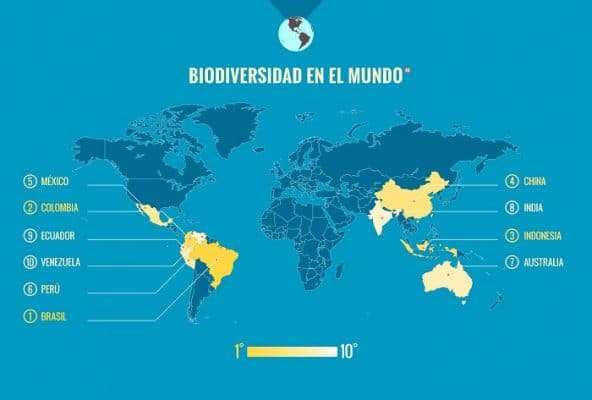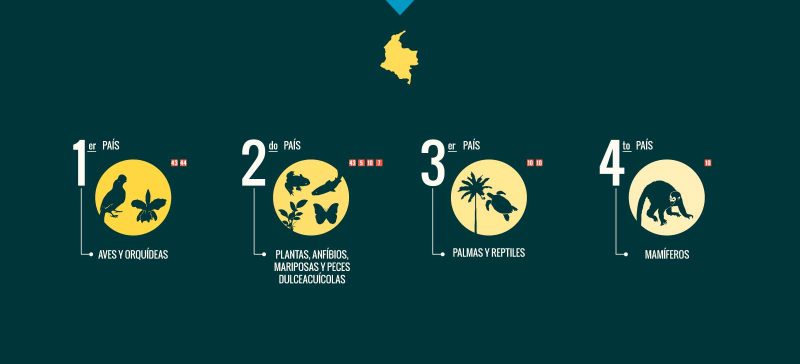 Important facts
Weather and seasons
Weather:Typically, is said that Colombia has two rain seasons and two less rain seasons, it must be took into account that we are at the tropical zone, yet, a very unpredictable region concerning weather.
Also, is important to have in mind, the micro-climates along the Colombian territory, due to this, in Colombia you will be able to be at 5000m in a glacier summit and at night be resting in a beach at the sea level enjoying the soft Caribbean sands. So, the best, and what we recommend is to always be prepared for both weather extremes.
 
Less rain season:From December to march and from June to mid-august.
Rain season: From April to May and from mid-august to November.
Vaccines
When visiting Colombia is recommended for travelers that are going to visit the regions below 2200 m (specially jungle regions and natural parks) to take the Yellow Fiber vaccine at least 10 days before traveling.
Please take the vaccine specially if you are visiting these areas:

• Amazonas, Caquetá, Casanare, Cesar, Guainía, Guaviare, Guajira, Meta, Putumayo, Vaupés and Vichada, where 80% of the municipalities are classified as high risk.
• Magdalena department: Santa Marta surroundings and the municipalities of Cienaga and Aracataca.
• Norte de Santander department, Catatumbo area: Convención, El Carmen, El Tarra, Teorama, Sardinata, Tibu, El Zuliz, Hacarí and San Calixto.
• Choco Deparment: Río Sucio, Carmen del Darién, Juradó, Nuquí and Utría.
• Antioquia: Dabeiba, Mutatá, Turbo and Yondó.
The vaccine is not suitable for people with positive VIH, pregnant women, children under 6 years old and people previously treated against cancer.
To go to the Jungle areas another vaccines are recommended: Antitetanic and Hepatitis A and B.
For visitors that come from countries where the Dengue vaccine is available, and you are visiting areas below 1800m, is advisable to take this vaccine.
.
Embassy
Embassy of Alemania
Address: Edificio Torre Empresarial Pacífic, P.H. Calle 110 Nº 9-25, piso 11
Phone: + 57 (1) 423 2600
E-mail: [email protected]
Web:www.bogota.diplo.de
Embassy of Estados Unidos de América
E-mail: [email protected]
Web:spanish.bogota.usembassy.gov
Embassy of Unión Europea
E-mail: [email protected]
Web:eeas.europa.eu
Embassy of Francia
E-mail: [email protected]
Web:www.ambafrance-co.org
Embassy of Suiza
E-mail: [email protected]Web:www.eda.admin.ch/bogota
Embassy of España
E-mail: [email protected]
Web:www.exteriores.gob.es
Embassy of Canadá
Address: Transversal 3 No. 86-73
E-mail: [email protected]
Web:www.canadainternational.gc.ca
Embassy of México
Address: Calle 94 Nº 9-39
Phone: + 57 (1) 743 1610 / + 57 (1) 616 7200
E-mail: [email protected]
Web:embamex.sre.gob.mx/colombia