Montañas Colombianas is a nature and adventure receptive tourism operator that was born in Pereira (Risaralda) and then grow to offer specialized hiking and trekking experiences in the whole national territory. Our operations team is located in Pereira (at the Coffee triangle heart), the Capital Bogotá and Chocontá.
Our slogan is "Mountain Partners" , we believe that the traveler is a friend and because of this we create experiences in accordance with each group or person needs.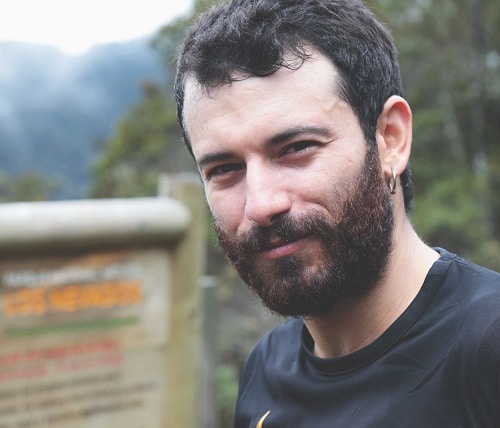 Sebastián López
Co-Founder and Mountain Guide
Sebastián, 29 years old. Colombian Professional Guide and Environmental Manager.Certified as a Wilderness first responder (WFR). For the last 10 years he has been dedicated to exploring mountains around the Ecuatorian Andes, Peru and Bolivia.He is actually working in a project for an expedition to the Himalayan summit, the Annapurna. In Montañas Colombianas team, he is in charge of planning the experiences and creating new treks along Colombian mountains.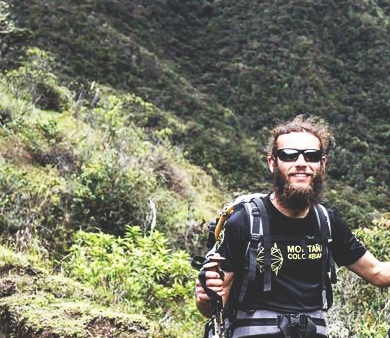 Eduardo LAscano
Co-Founder and Mountain Guide
Eduardo, 32 years old. Mountains passionate with 9 years of experience. Chef and professional guide, also Wilderness First Responder (WFR). He lives near Bogotá in a wood cabin at 3000m.
He now has a community project using his farm, of starting again the quinoa crop as a nutritional solution for Cundinamarca region. From there he helps developing the travel experiences, online and web client services. He has been in the Andean mountains of Ecuador, Perú and Bolivia. He is also planning with Sebastian the Annapurna Expedition.
Romain Viscaye
Associate
Romain, 30 years old. He was born in France but Colombian by heart. He lives in the exuberant Colombia 5 years ago. Environmental Engineer and a passionate adventurer.
Actually, he collaborates with the marketing and creation of new experiences in different ecosystems. He joined this beautiful project since 2017 after traveling with us and get enchanted with Nevado del Tolima summit (5220m). His experience come from the Alpes, the Ecuadorian and Colombian Andes.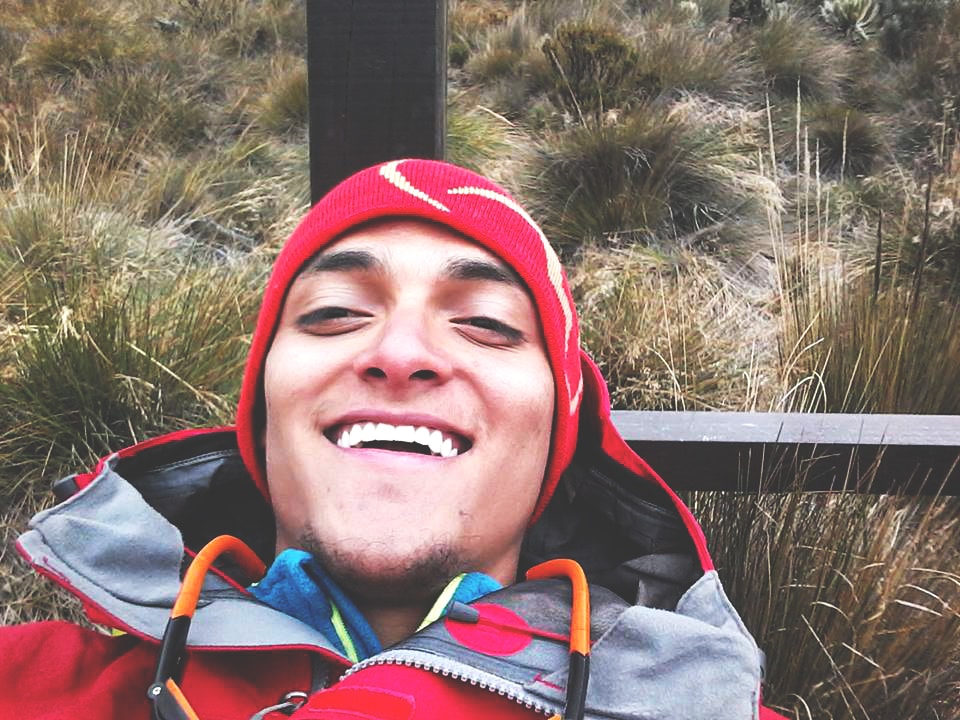 Daniel Posada
Operation and Logistics
Daniel, 23 years old. Since he was younger he has been visiting the closest mountains at the National Natural Park Los Nevados. There, he has been performing as an interpreter and guide. Rock climber and Wilderness First Responder (WFR). Actually, he is in charge of the logistics of all of our experiences. Being 21 years old he performed as manager in a mountain sports store in Bogotá. He keeps following his dreams of climbing the great mountains of the planet.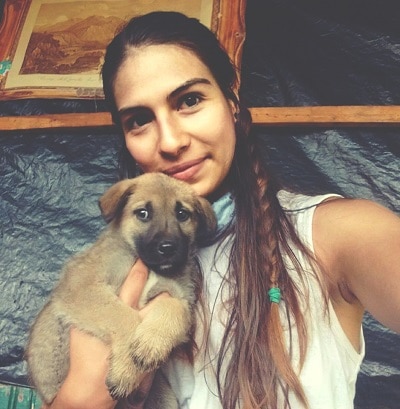 Fernanda Giraldo
SALES
Fernanda, 28 years old. Architect. Nature and sport lover. She decided to get involved in the travel world and now is a fundamental part of our family. Actually, studying to be a nature guide in Colombia.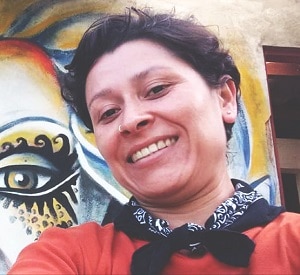 Viviana Madrid
Mountain Guide
Viviana. 34 years old. She has been always surrounded by nature, she was born in a small village close to the National Natural Park Los Nevados and the Otun Quimbaya Fauna and Flora Sanctuary.Teaching degree, professional guide and teacher at the Technology University in Pereira. She worked in the National Park System in charge of the environmental education group. She is also Wilderness First Responder (WFR).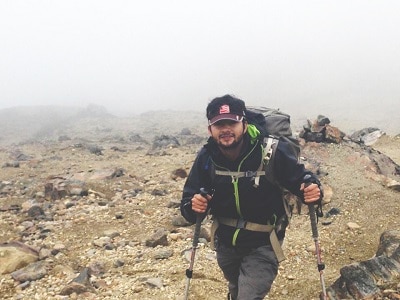 Gabriel Ardila
Mountain Guide
Gabriel, 40 years old. Professional Guide and environmentalist. He is also Wilderness First Responder (WFR). Survivor of an episode in the big rivers that flow down the mountain at the Nevados Park (Combeima river). A man with a large experience in the coffee mountains. Hiking them since the 90´s. He has been working in several projects that involve nature conservation and the community work. .
James Loaiza
Trekking Guide
James, 31 years old.Environmental Interpreter.
Actually, he is finishing his studies to be a Colombian professional guide. He has the certification for Wilderness First Responder (WFR). Passionate of trail running races. He lives very close to the mountains what makes him a great expert in the Andean fauna and flora. He worked at the National Park Los Nevados and the Otún Quimbaya Flora and Fauna Sanctuary.
.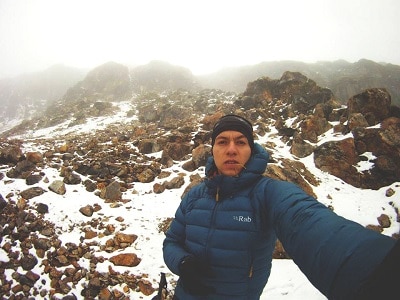 Julian Restrepo
Mountain Guide
Julian, 24 years old. He has an Engineer degree but once he gets in touch with the mountain world he decided to change the way of his life and become a mountain guide. Actually, he is finishing his studies as a Colombian professional guide.
He is Wilderness First Responder (WFR), also passionate of trail running competition.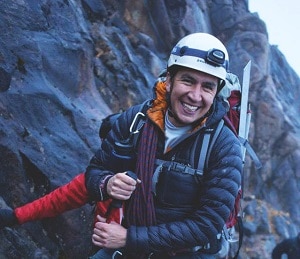 David Vargas
Mountain Guide
David, 34 years old. Environmental Engineer, Specialist in environment management and Professional Colombian Guide. He has been trekking and climbing mountains in México, Ecuador, Perú and Bolivia. Passionate of trail running. He has worked in several Colombian trail running races in logistics and management. Wilderness Firs Responder (WFR).
Germán Liberato
Mountain Load Logistics
German lives in the mountains at 3700m. He is the man in charge of all of our mountain baggage, an expert in this ancient wisdom. He is also a champion in several trail running races in Colombia, Ecuador and Perú.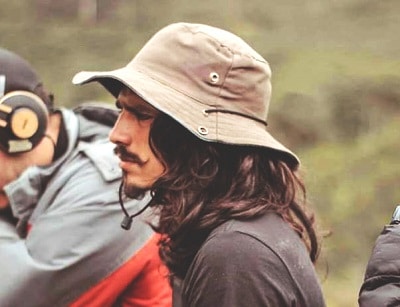 Daniel Isaza
Audio Visual Producer
Daniel, Juan Manuel and Julián are the team of a media resources company called VideoDiversa and they are the team in charge of the video documentation of all our experiences.
Doña Alba
Food and Hosteling
Doña Alba provide us with delicious food and hosteling in her mountain home. She is a great woman, strong and willing to help.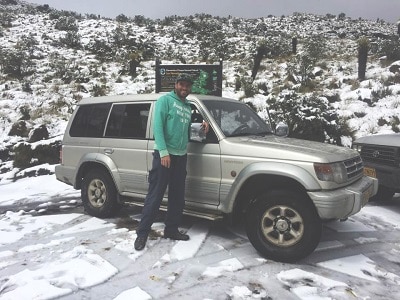 Juan Roldán
Driver
Juan Carlos, star driver. Actually, he is in charge of our transfer team
Objectives:
To promote the nature tourism development in Colombia connecting the national and international travelers with the local areas and their people, understanding this development as an independent process sustainable within each destination.

We look forward, with high service quality, security, and responsibility, to share with the Colombians and foreign visitors the hidden Colombian wonders.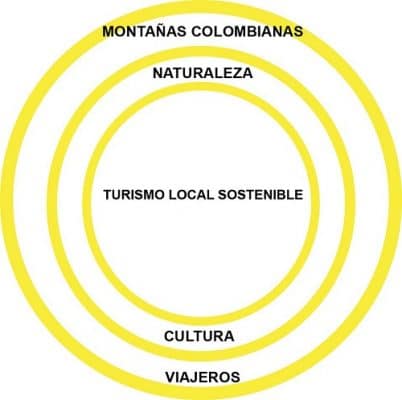 MISSION:
MONTAÑAS COLOMBIANAS aims for the local development thorough the nature and adventure tourism, looking for the Colombian tourism sector growing under high security standard, along with excellent nature interpretation, market understanding and personalized service for each group or person that join us to the mountains.
VISION:
2019: To be a leader company in Colombia for the national and international travelers in sustainable trekking and hiking, thorough the travelers connection with the local destinations.To Create the best Colombian experiences integrating the culture and nature of the trophic.
SECURITY:
All of our team is committed with the traveler safety, due to this, all of our guides are wilderness first responder (WFR) with the internationally certification by Aider Canadá, being the most advanced non-medical certification worldwide. 
LOCAL DEVELOPMENT:
We work with hand-by-hand with the locals, they provide us with all the services in the mountains (food, hosteling, transport and more).
WE HAVE TRAVELERS NOT TOURISTS
Our travelers are friends in the mountains, that's the reason we create itineraries specially made for each person and group, understanding the unique characteristics of each person."Mountain Partners"